Tom Clancy's Rainbow Six Siege Year 3 Pass DLC UPLAY CD KEY GLOBAL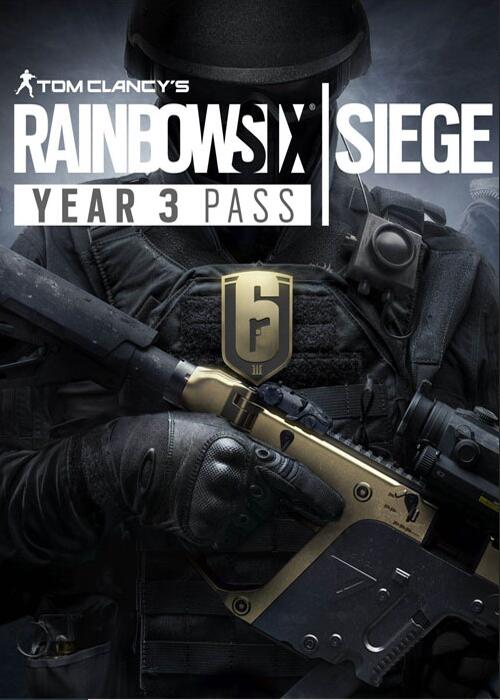 Tom Clancy's Rainbow Six Siege Year 3 Pass DLC UPLAY CD KEY GLOBAL
Новое Горячее
This product requires you to have Tom Clancy's Rainbow Six Siege - Standard Edition Uplay Key GLOBAL activated on your Uplay account in order to play.
Описание продукта
Tom Clancy's Rainbow Six Siege is the upcoming installment of the acclaimed first-person shooter franchise developed by the renowned Ubisoft Montreal studio for the next generation of consoles and PC.
Inspired by the reality of counter-terrorist operatives across the world, Rainbow Six Siege invites players to master the art of destruction. Intense close-quarters confrontations, high lethality, tactics, team play, and explosive action are at the centre of the experience.
The multiplayer gameplay of Rainbow Six Siege sets a new bar for intense firefights and expert strategy in the rich legacy of past Rainbow Six games.
Features:
Counter-terrorist units:
Counter-terrorist operatives are trained to handle extreme situations, such as hostage rescue, with surgical precision. Operating in tight formations, they are experts of close-quarters combat, demolition, and coordinated assaults.
The siege gameplay:
For the first time in Rainbow Six, players will engage in sieges, a brand new style of assault.
Procedural destruction:
Destruction is at the heart of the siege gameplay. Leveraging Ubisoft Montreal's proprietary Realblast engine, players now have the unprecedented ability to destroy environments.
Whokeys.com is a reliable and competitive online retail store that provides a wide variety of popular game products on all platforms, all kinds of gift cards and other software products. Purchase our products that we got from formal sources. Furthermore, Whokeys will keep updating our stock with everything you need.
Original Price

RUB 3613.25

Discount

-7%

Earn Up to RUB 269.33
Платформа

Регион

Ассортимент

Доступно для заказа

бестселлер! Спрос превышает предложение! Мы пополняем наш запас. Мы отправим ключи на ваш адрес электронной почты в течение 48 часов после вашего бронирования.
Вы также можете связаться
Закрыть

Добро пожаловать в whokeys Вход.
Адрес электронной почты

Пароль

Код подтверждения :

Забыли пароль?
Еще не зарегистрировались ?
Sign Up Now
Войти с помощью сторонней учетной записи:
Open the whokeys APP
Scan The code to login
Закрыть

Добро пожаловать в w8games регистрацию
Адрес электронной почты *

Please enter a valid Email.

Пароль*

6 to 16 letters, numbers, and special characters.

Подтвердить пароль*

Имя* Фамилия*

Код подтверждения :

Подписаться на whokeys Предложения, конкурсы и новости
Уже зарегистрированны в whokeys ?
Войти сейчас
Войти с помощью сторонней учетной записи
Закрыть

Забыли пароль
Введите электронный адрес
Проверьте идентичность
Введите пароль еще раз
Пароль изменился
Account:

Код подтверждения будет отправлен на

Код подтверждения ::

Новый пароль::

Подтвердить новый пароль::
Закрыть
Prompt T698563:
The programe has been successfully submitted to the system
Закрыть
Prompt T698563:
The programe has been successfully submitted to the system
Закрыть
Prompt T698563:
The programe has been This is a warning ?
Закрыть

Successful Registration

Welcome ! You have successfully signed up to be an whokeys member.
Close

Проверка безопасности