State of Decay 2 Xbox One Key Windows 10 Global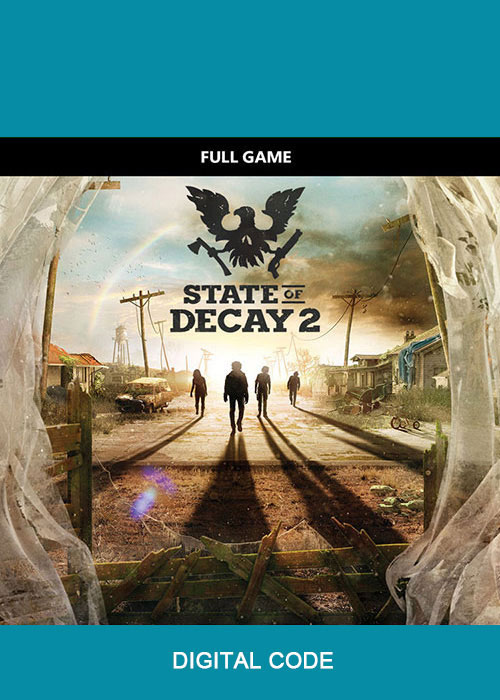 State of Decay 2 Xbox One Key Windows 10 Global
Новое Горячее
Welcome to Order!
State of Decay 2 Xbox One Key is a digital product - no box delivery. The price applies to a digital version of the product.
Описание продукта
How Will You Survive?

The dead have risen and civilization has fallen. Not even the military could stop the zombies, and now it's up to you to gather survivors and build a community in a post-apocalyptic world – a world where every decision matters, and where you define what it means to survive.

State of Decay 2 is the ultimate zombie survival game in an open world where you and up to three friends build a community of survivors. It's up to you to establish a base, develop your characters' abilities, and manage resources to survive as a group in a world where choices matter and every decision has lasting consequences.

Every player's experience is unique - as you play, the open world responds to your decisions, developing in real time and dynamically offering new opportunities for you to demonstrate your own personal survival priorities. These decisions also result in real consequences that affect your community. Send your best scavenger across the map to gather medicine for a sick friend... but know that they might not make it home. Help your neighbors, and you might make new allies... or you could decide that you need their food supply more than they do. In the end, how you survive might surprise you.

Features:
Permadeath - State of Decay 2 doesn't hold your hand: once a character dies, they stay dead, and you can only hope you won't see them later as a shambling corpse
3 large maps - in SoD2 you find yourself on one of three map, each of them larger than the entirety of the first State of Decay
Four-player co-op - if the threats of the zombie-infested land are too much, call on up to three other players to help you, or go out helping people yourself
Virtually endless combinations of survivor traits - drawn for 1000 of possible features, each survivor is a unique combinations of abilities and physical traits
Multiple types of zombies - from hulking behemoths called the juggernauts, to screamers alerting nearby hordes of your presence, each type of undead is a different challenge
Whokeys.com is a reliable and competitive online retail store that provides a wide variety of popular game products on all platforms, all kinds of gift cards and other software products. Purchase our products that we got from formal sources. Furthermore, Whokeys will keep updating our stock with everything you need.
Original Price

RUB 3613.25

Discount

-27%

Earn Up to RUB 211.50
Платформа

Регион

теги

FPS

Ассортимент

В наличии
Вы также можете связаться
Закрыть

Добро пожаловать в whokeys Вход.
Адрес электронной почты

Пароль

Код подтверждения :

Забыли пароль?
Еще не зарегистрировались ?
Sign Up Now
Войти с помощью сторонней учетной записи:
Open the whokeys APP
Scan The code to login
Закрыть

Добро пожаловать в w8games регистрацию
Адрес электронной почты *

Please enter a valid Email.

Пароль*

6 to 16 letters, numbers, and special characters.

Подтвердить пароль*

Имя* Фамилия*

Код подтверждения :

Подписаться на whokeys Предложения, конкурсы и новости
Уже зарегистрированны в whokeys ?
Войти сейчас
Войти с помощью сторонней учетной записи
Закрыть

Забыли пароль
Введите электронный адрес
Проверьте идентичность
Введите пароль еще раз
Пароль изменился
Account:

Код подтверждения будет отправлен на

Код подтверждения ::

Новый пароль::

Подтвердить новый пароль::
Закрыть
Prompt T698563:
The programe has been successfully submitted to the system
Закрыть
Prompt T698563:
The programe has been successfully submitted to the system
Закрыть
Prompt T698563:
The programe has been This is a warning ?
Закрыть

Successful Registration

Welcome ! You have successfully signed up to be an whokeys member.
Close

Проверка безопасности